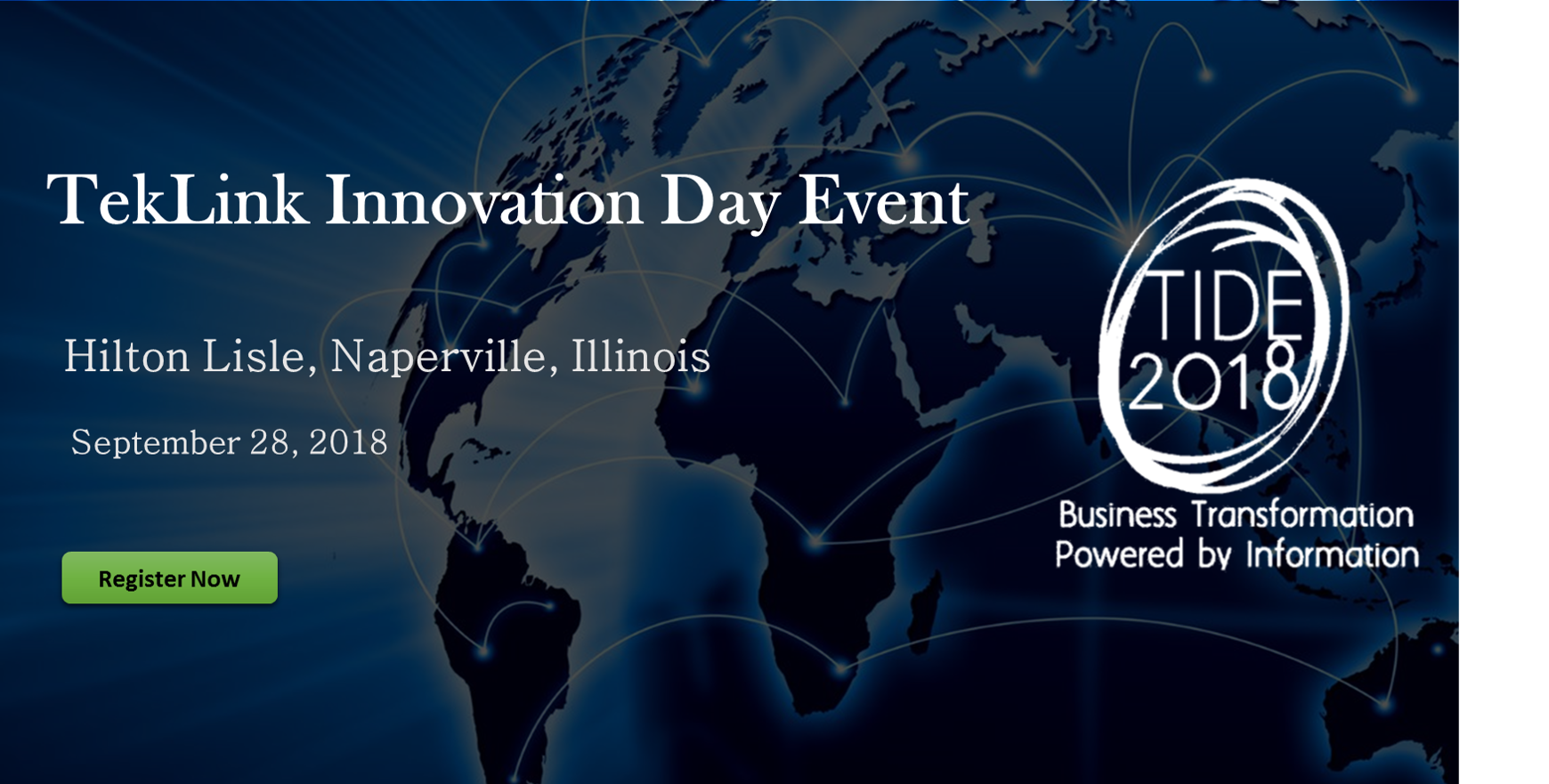 Venue
Hilton Lisle/Naperville | 3003 Corporate West Drive | Lisle, IL 60532
Friday, September 28, 2018 from 8:00 AM to 6:00 PM (CDT)
---
About TIDE
Business Transformation Powered by Information!
TekLink is known for applying our innovative expertise with data to your organization's analytics and business planning processes. We concentrate our experience with a wide range of technologies, gained from over 1000 successful projects for customers in various industries, to bring you TekLink Innovation Day Events (TIDE).
Please mark your calendar for Sept 28, 2018 for TIDE 2018.
The focus for this year's event is learning from real world experience and cutting-edge examples of transformational digital change and the enabling technologies. We want to make sure that you are equipped with all the information needed to make the best decisions about your enterprise analytics and business planning processes and infrastructure.
Just another part we are proud to play in our role as your trusted analytics and planning partner!
** The event on September 28th is currently planned for our clients and prospects only. We cannot currently accept attendees from partner or consulting companies.
---
Sessions
Keynote
Leading IT in the Digital Age: Challenges and Opportunities
Hear from the CPG industry leader how Big data can be leveraged to solve complex business intelligence problems.
Speaker: Danny Siegel – Vice President, Information Delivery, Newell Brands
Executive Roundtable
Digital Transformation and The Intelligent Enterprise
Leaders from different industries discuss their approach towards the complex and ever-changing challenges they face while leading their organizations' IT transformation.
Panelists:   Danny Siegel (Vice President, Information Delivery, Newell Brands); Kevin Reilly (CIO at Old World Industries LLC.); Roberta Cadieux (CIO American Hotel Register)
Supercharge Your Trade Promotions Planning, Reporting, Insights & Optimization with CBP and TPM on SAP HANA | 

Speaker: Hariharan Margabandhu 

How Kellogg gained insights and efficiency managing Advertising and Promotion expenses using Anaplan | 

Speaker: John Anderluh / Taryn Townsend

Visualize the Future – Understanding your options for Data Visualization in a modern BI world | 

Speaker: Abhishek B. Jain

Winning as a Data Driven Organization: How Data Science can give you a competitive edge | 

Speaker: Nitin Agarwal

Improving Forecast Accuracy with SAP Analytics Cloud Predictive Forecasting | 

Speaker: Mario Arias

Modernize your BI landscape with Microsoft Azure | 

Speaker: Sandeep Khare

Innovate with SAP IoT Solutions | 

Speaker: Vikram Rawat

Central Finance product or process?  Learn how central finance helps and supports consolidated corporate reporting, Planning and Consolidation |

Speaker: Suresh Yalavarthi

SAP BW/4HANA and SAP Data Hub – A Synergistic Combination | 

Speaker: Manish Umarwadia

Data Integration Options for Cloud based applications |

Speaker: Venkat Ram

Make the best even better: Real scenarios on HANA Optimization | 

Speaker: Abhishek S. Jain / Jeya Thangaraj

Hidden Treasure: Using pricing analytics to discover hidden profit and market share  | 

Speaker: Amol Palekar / Pravin Gupta
View session details and abstracts here 
Hands-on Sessions
Automate business processes and decisions with the Microsoft Power Platform
SAP Analytics Cloud dynamic, real-time digital boardroom, enhanced planning and analytic capabilities
Ingest External data in Azure Data Lake for Analytics
Try your hands with NLP using Spark on Amazon Product Reviews