Introduction
What is SAP Trade Management?
SAP Trade Management is an integrated, holistic Trade Management solution that enables a coordinated business process for field sales to create account-specified plans aimed at maximizing profitability that fully integrates with S&OP, Supply Chain Management, Finance, etc.
Features and Migration to the new release
I was fortunate to be part of the SAP partner testing team in Waldorf during the launch of the re-imagined SAP Trade Management solution "2.0" in April 2016. The solution has come "A Long Way" with a new release every year since 2016. The new functional release (TMAC 4.0 FP03) definitely takes it further by incorporating the most common set of "Project-Based Enhancements" in the standard solution. As an added benefit, the new release is future-proof to BW/4 HANA upgrade.
In my previous blog, SAP's simplified data model, I had talked about several new features in FP03. In this one, however, I will touch upon two key business requirements:
Separate view for Baseline KPIs: Uncluttered layout for Baseline volume planning in CBP (Customer Business Planning)
Multi-level promotion planning: Ability to plan promotions at account-hierarchy node lower than at which customer-plan exists (Customer Business Plan),
for which we have built custom project-based solutions in the past, but are now addressed as part of the standard delivery. I am sure that any experienced SAP customer would gladly testify to the fact that any "Standard SAP solution feature" is well-engineered, sustainable and scalable in the long term. The new release does just that.
Further, it will help lower the implementation and support costs in the long run. With this background, the intent of my blog is two-fold:
Illustrate these 'new features' and

Separate view for Baseline KPIs
Multi-level promotion planning

Chalk out the migration path to the new release
The blog might be of interest to new SAP Trade management customers as well as customers who live on an older version of SAP TM and are looking to upgrade. A basic understanding of Trade management processes – Baseline Planning, Customer P&L, and Promotion Planning is useful to follow the contents of this blog.
(1) Illustrating the new features
a. Separate view for Baseline Volume KPIs
A dedicated tab is made available to show baseline volume key figures (Baseline Building Blocks). This allows deployment of an uncluttered layout (i.e. separate planning of volume and value). In most companies that I have worked with, the adjustments to baseline-drivers (volume) are infrequent & it made sense to separate them. Moreover, the KAMs (Key Account Managers) felt overwhelmed with the display of large number of KPIs in a single tab. This usability improvement will go a long way in aiding productivity and lowering investments in change management.
Here is a preview of the separate baseline tab:
b. Multi-level Promotion Planning
The one common aspect that I have come across in almost all the projects that I have been involved with is that the KAM manages the customer-level P&L at a higher level of the account-hierarchy node and yet runs "store" or "regional" promotions at times. Consider the following example to illustrate this.
The scenario consists of two levels of account-hierarchy nodes:
1-High level node & 3-regional nodes that roll-up to it.
Highest node – "301855-Walmart Neighborhood Market US"
3-lower level nodes – "301866-Weslaco"; "301867 – Goldsboro" and "301868 – Oklahoma City"
The business requirement is to maintain the CBP-plan (Customer P&L) at the highest node, i.e. @ "301855-Walmart Neighborhood Market-US" as the volume planning, is managed at this level by KAM. From time-to-time, he/she runs promotions only for specific regions that roll-up to this node. In our example, he/she runs 3-promotions in total. Promotion# T-00005099 is for "highest node – 301855" while Promotion# T-00005101 applies to 'Weslaco-301866' and Promotion# T-00005103 is applies "Goldsboro – 301867". However, from a visibility standpoint (display of overlap volume) he/she would like the "uplift" from "2-lower level promotions" to be shown on "high-level promotion". Also, roll-up the uplift from "all promotions" to the CBP plan.
The above business requirement can be summarized as:
Plan promotions on different levels of the customer hierarchy
Roll up promotion data (e.g., uplift) to higher-level promotion
Roll up promotion data to plan
This is delivered out-of-the-box in the new release as shown in the screenshot below, wherein the uplift of "50 EA from lower-level promotion# T-00005103" + uplift of "70 EA from lower-level promotion# T-00005101" are rolled-up as "120 EA" and shown as a separate KPI in Promotion T-00005099(higher level)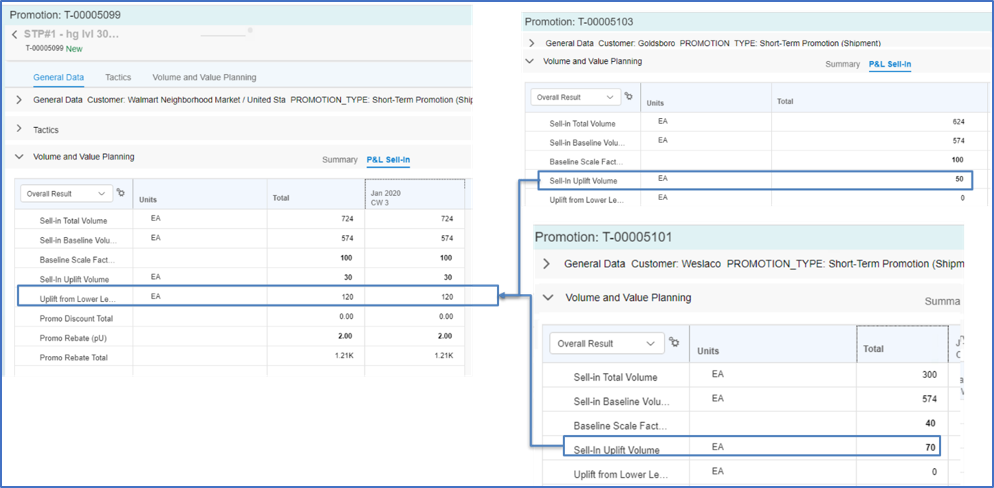 Besides, the uplift from all the three promotions is reflected in the CBP plan. This can be viewed in the screenshot below: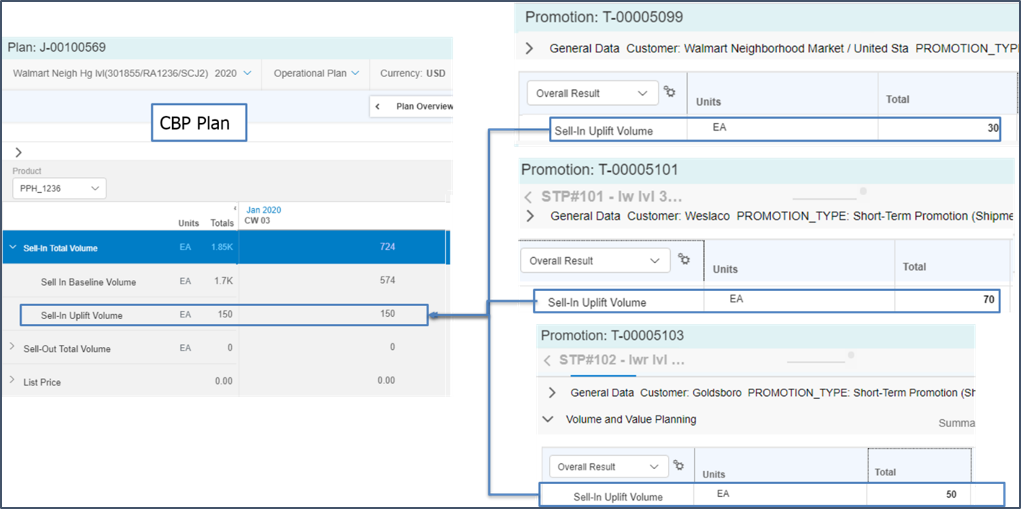 As we saw from the above two screenshots, the capability to plan complex-business scenarios of "Multi-level" promotion planning is delivered as an out of the box solution in the new release.
Now that we have seen the new features in detail, I will walk you through a possible approach to chalk out the migration path to the new release. This is usually a joint exercise with IT and Business.
(2) Chalk out the migration path to the new release
We saw in the first part of the blog illustration of some of the features delivered with the new release. The blog is written with the help of a recently upgraded internal-demo system for SAP Trade Management with all new features enabled.
I also used this system to lead an assessment for customer on a lower release of TM with an intent to address the below questions:
Expose business-users to the new features with a live-demo
Evaluate the expected business benefits by moving to the new release
Chalk out a path and timeline for the migration project
We have developed a methodology that quickly helps you answer such questions if you intend to move to the new release. In general, we conduct business interviews, use certain accelerators to evaluate your current technical implementation and combine it with our technical knowledge and business experience to come up with a set of implementable recommendations and timeline. Here is sample output from one of the assessments: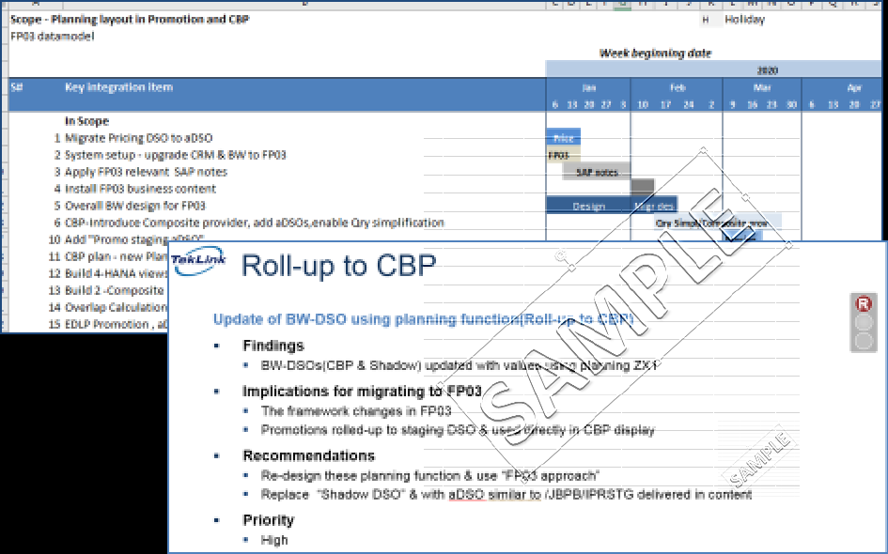 The deliverables of the assessment were found very valuable by the customer & it allowed then to articulate the business needs and benefits of moving to the new release.
Conclusion
New release of SAP Trade Management provides "out of the box" solutions to many business problems that require custom development in the older releases. For customers on an older release of SAP TM, TekLink provides an offering to conduct an assessment of your current TM environment and deliver a readout & migration timeline for you to make an informed decision on upgrade. This could potentially help evaluate the "$" benefit of moving to a newer release.